I so want to share these cute photos - and I'm so excited about my new discovery, Photobucket ... so, it makes sense to just post the damn photos on my, ahem, blog. Yeah, I have a blog. Of course it barely qualifies since I have not posted anything since last December. (See me looking sheepish?) It was ostensibly anonymous. I thought I should keep it so because I have all these really bitchy posts stored up in the back of my mind - e.g. regarding the Alpha moms in my neighborhood and other such rants. But since I can never seem to carve out time to post pleasant things, I can't really see spending hours on carefully crafted vitriol. Because after all, if you can't say something nice ... yada yada. As I said in a [rare] post many months ago, "It is pretty silly to maintain an anonymous blog ... WITH NO CONTENT!" Silly indeed. Anyway, I'm letting you in on my secret for a number of reasons, but mostly because I am lazy. See, if I upload photos here then you have to come see them, rather than me having to send them out in a Shutterfly link. One less step for me! Plus, I can recount all the cute anecdotes about Kid and Dog (and Husband ... he does cute stuff too sometimes) and you'll have to suffer through them to get to the photos. For now though, I'm giving you a couple freebies ...
So, without further ado, here is Quin at fourteen weeks:
Notice the hip little soul patch under his lip - like Apollo Ono! A lot of Seattle men (my husband included) sport goatees and other creative facial hair-doos. Quin is just trying to fit in.
Here's one of Kid and dog: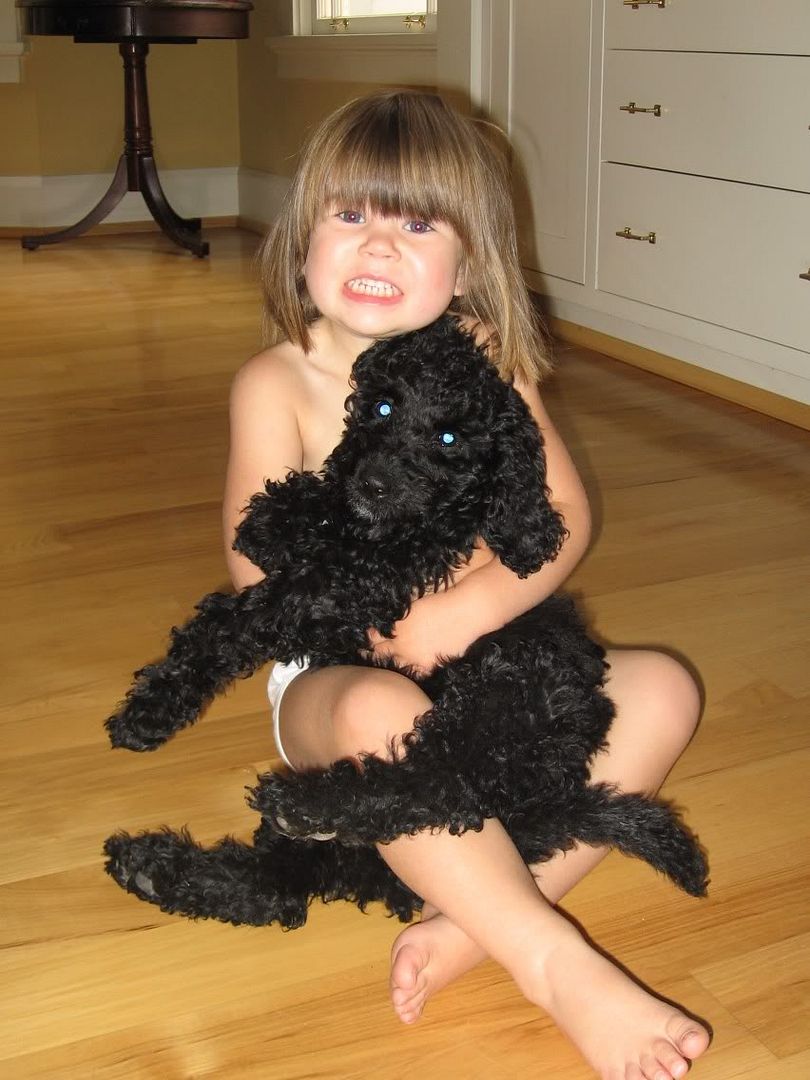 Labradoodles are great with kids, you know.
One more thing ... My boss, Judy, has been after me to start a blog. Seriously! Didn't dooce get fired for her blog?! See, told you I'm lucky! My boss is so great she's TELLING ME TO BLOG! Actually, I think she's hoping it is along the lines of this ... she's just after my recipes. Alas.
Ok, I should get to work or Judy may change her mind. I'll leave you with this (yes, I am one of those parents who lets her kid pick her own clothes [most of the time] - mostly because the results crack me up):